BlitzWolf BW-CML2 Air Monitor Light Bar Touch Control Eye Protection Anti-Glare 300-1000Lux Adjustable Cool/Mix/Warm Light Color Temperature USB e-Reading Light for Home Office PC Computer
Why do You Need a Monitor Light
In the era of IoT, computers are indispensable for work, study, entertainment and games, but too bright/too dim light will directly pose burden on your eyes. BW-CML2 Air monitor light focuses on providing lighting solution for computer desktops with display space light source technology.
Features:
1. Adjustable Color Temperature(2700-6800K): Fit various scenes like working, reading, gaming, relaxing
5 color temperatures for you to choose??2700K-3400K–4400K-5500K-6800K
Cool Light: Working
Mixed Light: Easy Reading
Warm Light: Relaxing
2. 300-1000lux, Adjustable Brightness
Reducing screen reflection and relieving eye fatigue, glare-free, bright and soft light allows you to view clearly and comfortably.
3. Asymmetric Forward Projection Design & Anti-Glare Design
BW-CML2 Air monitor light adopts asymmetric Light Source. With a unique light source, it will only light up the desktop, rather than the screen, without reflection and glare, virtually eliminating reflective glare from the monitor to maximize your focus and comfort whether you are working or relaxing and better for your eyes.
4. Free Anti-Blue-Light
BW-CML2 Air monitor light can blocks blue light and optical radiation, effectively relieving eye fatigue to protect your eyes. It??s the ideal choice for students, painting designers, and business office workers.
5. Simple Installation
Space-saving, Magnet Fixing Design, Simple Installation.
Perfect for monitor with 15-25mm thickness.
6. Touch Control
One touch: lighting on
Double touch: lighting off
Short press:color temperature switch
Long press: brightness adjustment
7. USB Powered Lamp
The e-Reading Lamp can be powered by any USB outlet, whether the source is a computer, phone charger, or power bank. Slim and sleek design, easy to carry. Whether it is at home, in the office, or during travel, it is your best companion.
8. Memory mode
The CML2 Air remembers the brightness and color temperature used last time and automatically restores it the next time it is turned on. This mode is very convenient and saves the trouble of adjusting each time.
pecifications: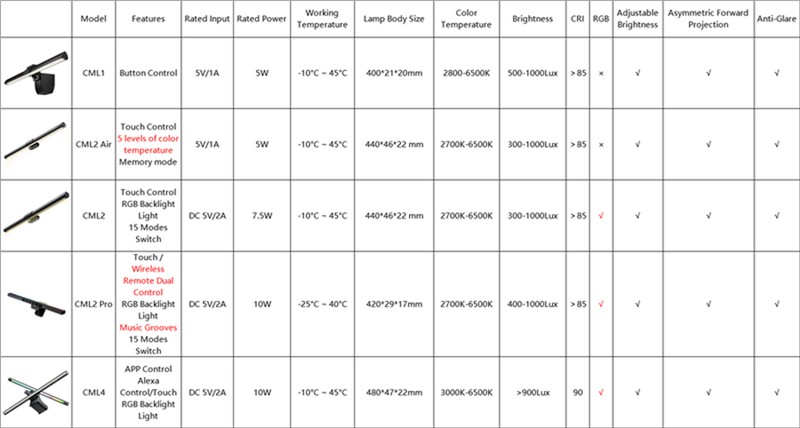 Package Includes:
??
Monitor light 1PC
?? Fixed bracket adhesive 1PC
??
Metal sheets 1PC
?? Fixed bracket 1PC
??
Manual 1PC
Note:
1. Please use 5V adapter or power supply device to powerthis product, For example: USB output port of computerscreen, 5V adapter, power bank, etc.;lfusing an adapteror powersupply exceeding 5V,which may cause damagethe product or safety hazards;2. Do not hang or press other objects on the lamp to avoiddamage the product;3. Please clean the product regularly. When cleaningthe surfaceofthe product, please out offthe power. And wipe with a softcotton cloth, do not use liquid, spray cleaner Or clean witha damp cloth;4.When the lamp is not used for a long time, please unplugthe USB powersupply line or cut offthe power supply;5.Do not disassemble the product privately.lfthe productis found to be faulty, it can be handed overto this Companymaintenance personnelperform repairs;6.This productisforindoor use only.
?? Please allow slight dimension difference due to manual measurement.
?? Please consider the actual sizes in the listing as the pictures are generally enlarged to show detail.
?? Due to different producing batches, product details might be a little different. If you minding the difference, please buy it carefully.
?? Due to the light and screen difference, the item's color may be slightly different from the pictures. Thanks for your understanding.